GENNADY AND NATALIA BYKOVS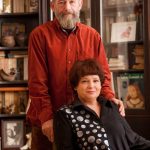 The jewellery artists from St. Petersburg — were among the first Russia's jewellery designers who pioneered the renaissance of the Russian jewellery art.
Their creations had anticipated the trend for jewellery artworks which tell a story instead of simply showcasing the gem's beauty or shaping the precious metal into something elaborate. Bykovs rose above any traditions of historical or geographical jewellery schools, thus giving a birth to a new school of their own — the school of conceptual jewellery.