Comparison to jewellery legend
Faberge is not to be taken lightly, especially as a Russian, when one's imperial heritage is so interwoven with the craftsmanship of the French jeweller.
This is exactly the accolade that Russian jewellery designers Gennady and Natalia Bykovs have earned, thanks to the level of their craftsmanship. Although their exquisite creations could once be found only in museums, both in Russia and abroad, their work has recently become available for consumer purchase.
The horse has long been a key source of inspiration for the Bykovs, its form and movement reflected in many of their creations.
The horse, they say, is a symbol of wildlife energy, beauty, gracefulness and power, as well as enchanting and harmonious movement.
Reflecting the deep love between a horse and its owner, the Bykovs'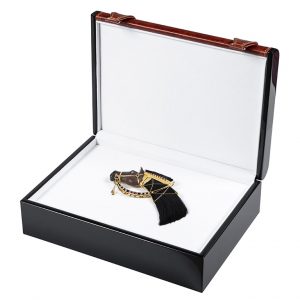 'Favorite' brooch is an exquisite jewellery/art hybrid, handmade in 18ct gold. Full personalisation can be achieved by taking a hair sample from the horse and then selecting stones to match the racing colour; the horses's name and date of birth can be engraved ' on the back of the item as well.
The horse head can be crafted from the stone matching the horse's suit, or from gold or platinum. As a symbol of pride, or a talisman of fortune, it represents the bond and connection between an owner and his horse.
"It's important for us that our works won't get outdated, that they remain timeless,» say Gennady and Natalia Bykovs. Highly personal, the Favorite is an unparalleled gift or memento.
Sarah Rodrigues